Covid-19 Safe Practices & Policies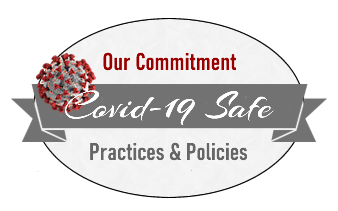 Dear Valued Guest:
Welcome to The Cottages! We appreciate that you have chosen our property for your upcoming Carpinteria getaway. Below you will find a list of practices that we are engaged in to best protect you, our guest, during this time of Covid-19. We are also including a list of policies that we request of each of our guests to ensure the health and safety of all who frequent our inn.
Thank you for your understanding and participation as we work together to stay health and enjoy life during a particularly difficult time.
~ from All of us at Carpinteria Beach Cottages
PROPERTY PRACTICES
Each of our housekeepers have received training in extensive cleaning procedures, as related to Covid-19.
You are welcome to enjoy our outdoor facilities, like your porch, bicycles, and to a limited extent the BBQ area. We ask that no more than 2 people use the BBQ area at one time.
Adults and children alike are asked to not run around the courtyard area.
We use a self-check-in method and are always available by phone to maximize your comfort and safety during your stay with us.
COTTAGE PRACTICES
Each of our cottages are thoroughly cleaned and sanitized prior to guest arrival. All surfaces, furniture, linens and amenities are sanitized.
Once your cottage is cleaned and prepared for you, no one enters the cottage prior to your arrival.
We do not provide cleaning during your stay.
GUEST POLICIES
We request that guests wear a mask when in close quarters with other guests.
If while you are at The Cottages, you become unwell, we request that you notify us and make arrangements to return home.
We ask all guests to practice social distancing while enjoying our property and when interacting with other guests.
We ask all guests to not touch other people's pets and to not allow others to touch your pet, if you have one.