Carpinteria Beach Cottages … since 2012
Dear Carpinteria City Council Members:
Thank you for the opportunity to revisit the STR (vacation rental) mandate that is set to take effect in July of 2022. Our family owns Carpinteria Beach Cottages (https://carpinteriabeachcottages.com) on 7th Street one block up from the train tracks that divide those who may continue as vacation rentals and those who are being asked to close their doors to overnight guests.
Our seven retro-style cottages are the result of an extensive remodel that turned two sagging buildings on one lot into a popular destination for couples, families, commercial photo shoots, and group gatherings. The Cottages have been featured on the cover of three magazines (including CARPINTERIA Magazine) and several feature articles have included our property.
Please consider these facts:
We purchased and developed The Cottages as a business, which is our livelihood.
We have been hosting guests since 2012 with substantial growth with each progressing year.
We have a property manager who was born and raised in Carpinteria, Lisa Carey, who has been with us since 2012. We employ housekeepers and maintenance staff from the local community. And we shop local.
We are a more affordable alternative to the beachside vacation rentals located along the Carpinteria coast. Our guests mention this often and with gratitude.
We have off street parking for all units and are completely self-contained in that six cottages face each other with a park-like setting in the middle.
We have a professionally designed website, a marketing consultant, online reservation system and all the appropriate licenses and insurance required.
We are currently averaging $30,000 annually in TOT paid to the City of Carpinteria.
Our guests, we estimate, contribute $360,000 annual to the local economy via restaurants, shops, and services.
Over the nearly 10 years that we have been in business, we have not had one complaint filed against us, no lawsuits, and no fights with neighbors.
We do not allow noise in the evenings; nor do we allow parties or live music.
Our neighborhood block consists of 26 rental units and 6 single family homes.
We can understand your concern about STR's in neighborhoods such as Concha Loma. But this is not our demographic.
We are team players with the citizens and businesses of Carpinteria. We consider ourselves to be a vital part of the community and hope to continue in this way.
We are asking permission to continue doing business with Carpinteria and the traveling public as we have been doing very successfully for nearly 10 years. Specifically, to be grandfathered into our present business model of providing overnight accommodations for couples, families and groups.
We recently reached out to our past guests to ask for their support in our quest to retain Carpinteria Beach Cottages for overnight guests. We have collected 230+ responses in 48 hours! What they have written speaks volumes about The Cottages and what they mean to our guests. One from parents of a severely disabled child who have found a safe and comfortable vacation spot for their family getaways. Another from a New York Times travel writer who frequents The Cottages. Another from a local resident who houses her family when they are in town.
On this page you will find a summary of these notes, followed by a small set of these notes from our guests.
We hope you will take the time to read these guest comments and to find it in the best interest of all parties to grandfather us into our designation as vacation cottages for overnight guests.
Thank you for your time and consideration.
Thom Vernon & Family
P.S. Our doors are open to you. Please email me and come for a visit: tvernon888@gmail.com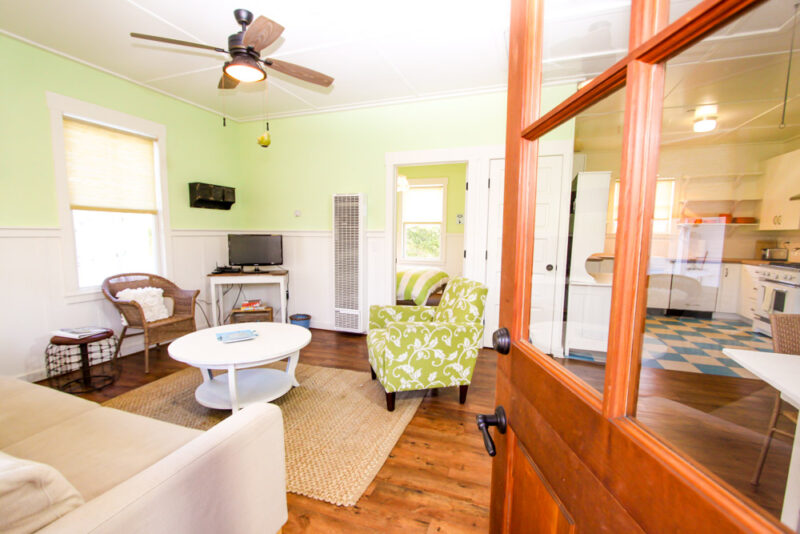 A SAMPLER OF GUEST NOTES TO:
Carpinteria City Council Members
As a travel writer for The New York Times, I'm particularly sensitive to places that are out of the ordinary, and clearly have the best interests of travelers in mind. Carpinteria Beach Cottages is one such place.
Allowed us to spend many wonderful family gatherings in a way no classic hotel could.
This isn't your run of the mill rental; they are used by wonderful families that come to Carp to spend time with family and friends; memories are made at CBC.
They contribute immensely to the towns atmosphere and I'm certain they contribute to the economy as well. it would be a devastating loss if this is the new policy.
We have a severely disabled son who uses a wheelchair. It is hard to find hotel accommodations that are available, accessible, and fit our whole family. Carpinteria Beach Cottages does.
I truly believe that businesses like Carpinteria Beach cottages add value and bring quality visitors to the area as opposed to the chain motels in many cities up and down the coast.
Tracks are for trains, not creating dividing lines.
There is a story on every porch from anyone who has been lucky enough to have stayed at the Seventh St. Cottages.
Not allowing these cottages to exist would be like telling the Spot to shut down!
The current ownership of this property has poured their souls into making this piece of real estate old Carp. Please, please, please do not touch this site. Let it continue to shine as one of your crown jewels forever; do the right thing!
These cottages are an architectural treasure and have been nicely restored. Council should do everything they can to support this business.
If short term rentals are prohibited on the other side of the tracks, it will skyrocket prices and ruin the last true American quaint beach town that Carp is.
Decisions such as yours should not be so broad as to encompass businesses like these who make the community better and help local vendors.
Please don't take the jewel of Carpinteria away from families!
Carpinteria Beach Cottages Media Clips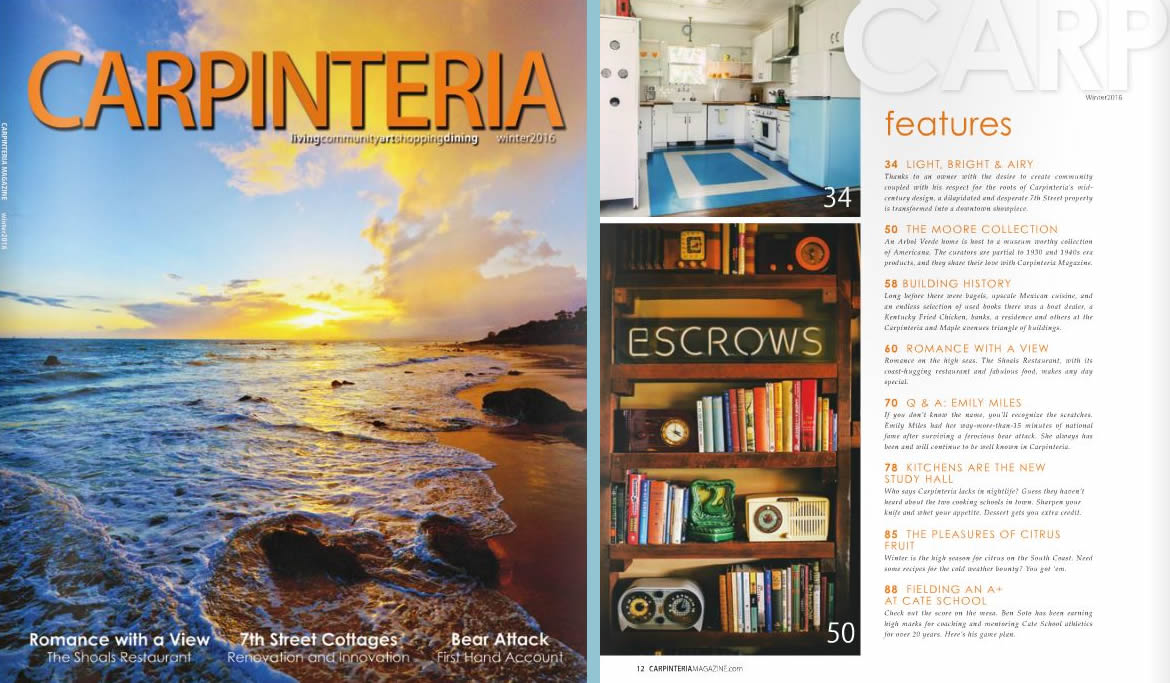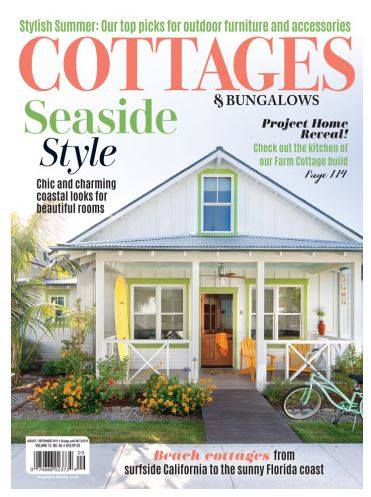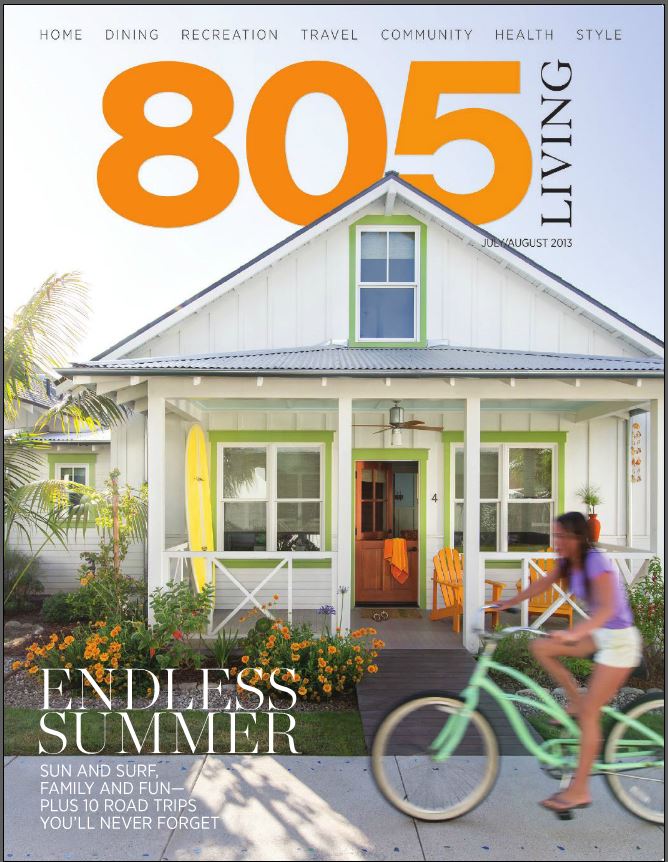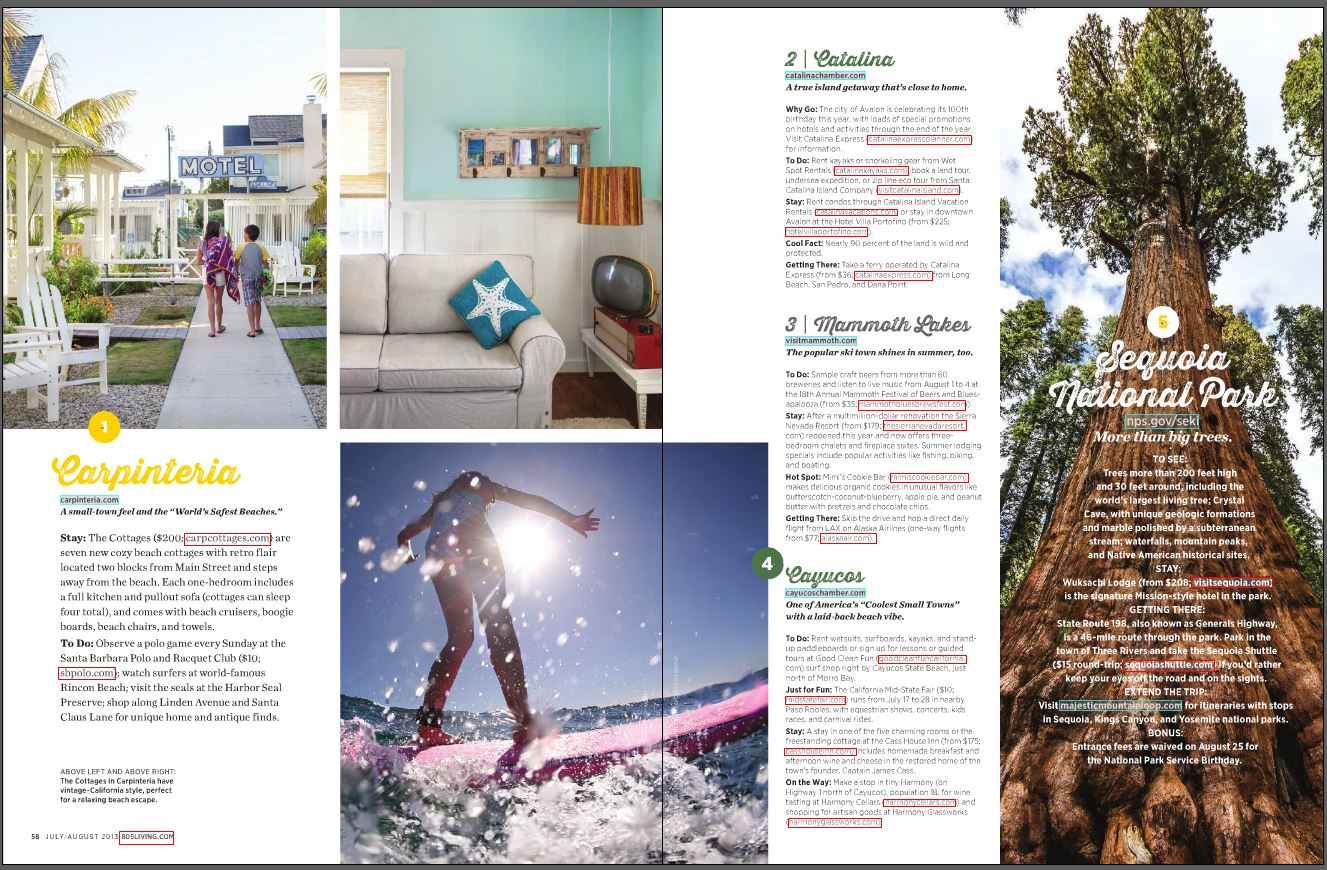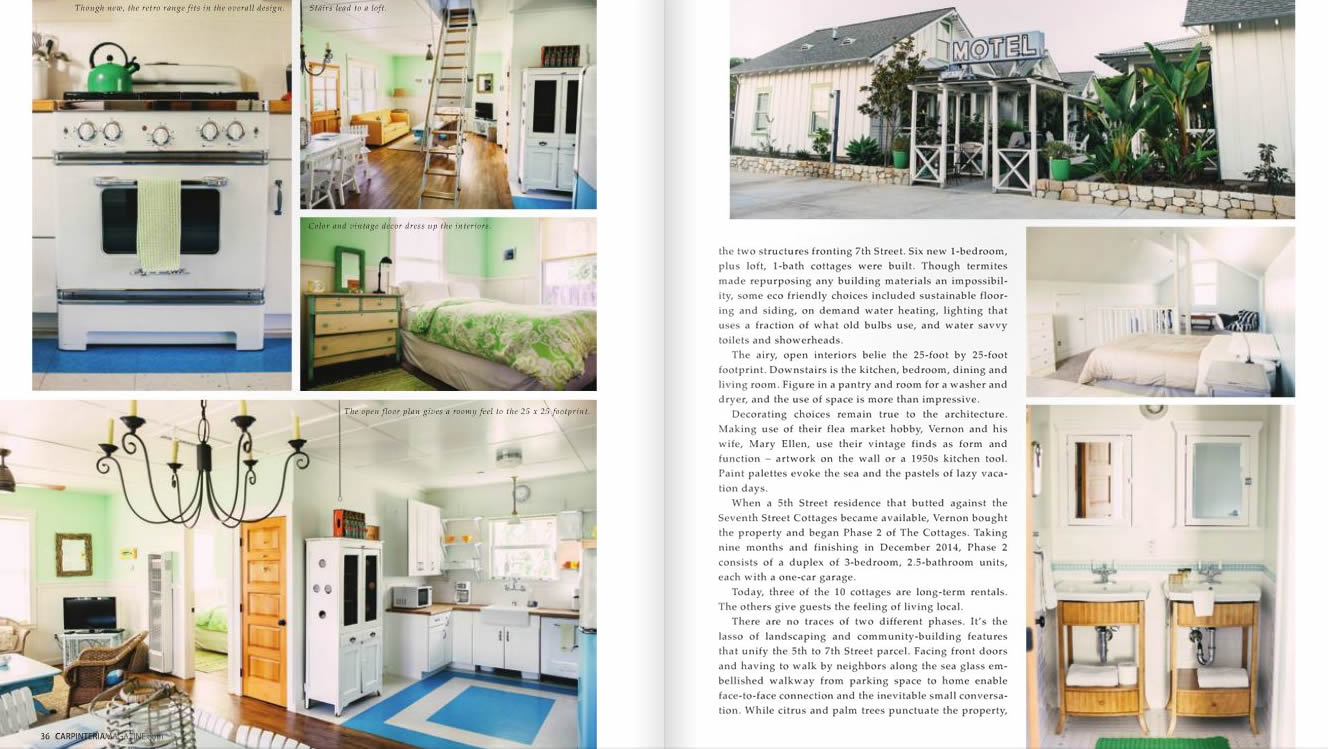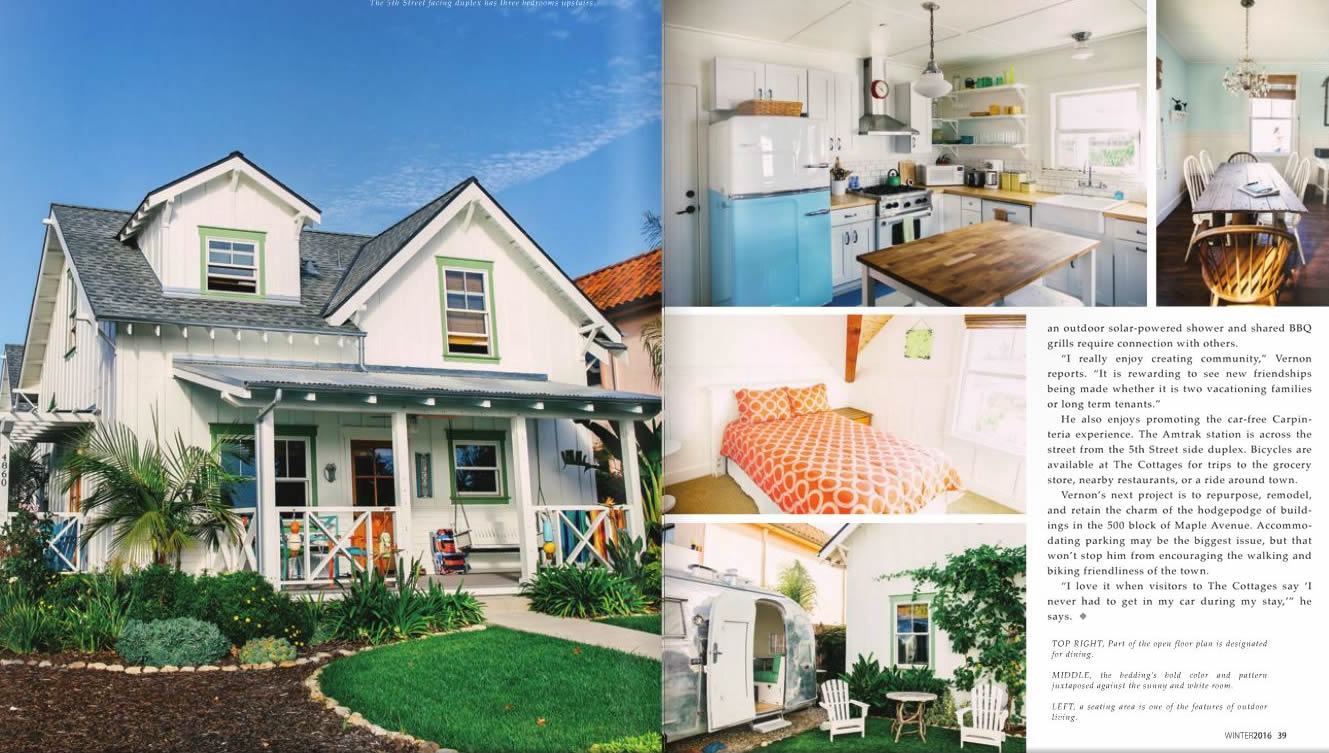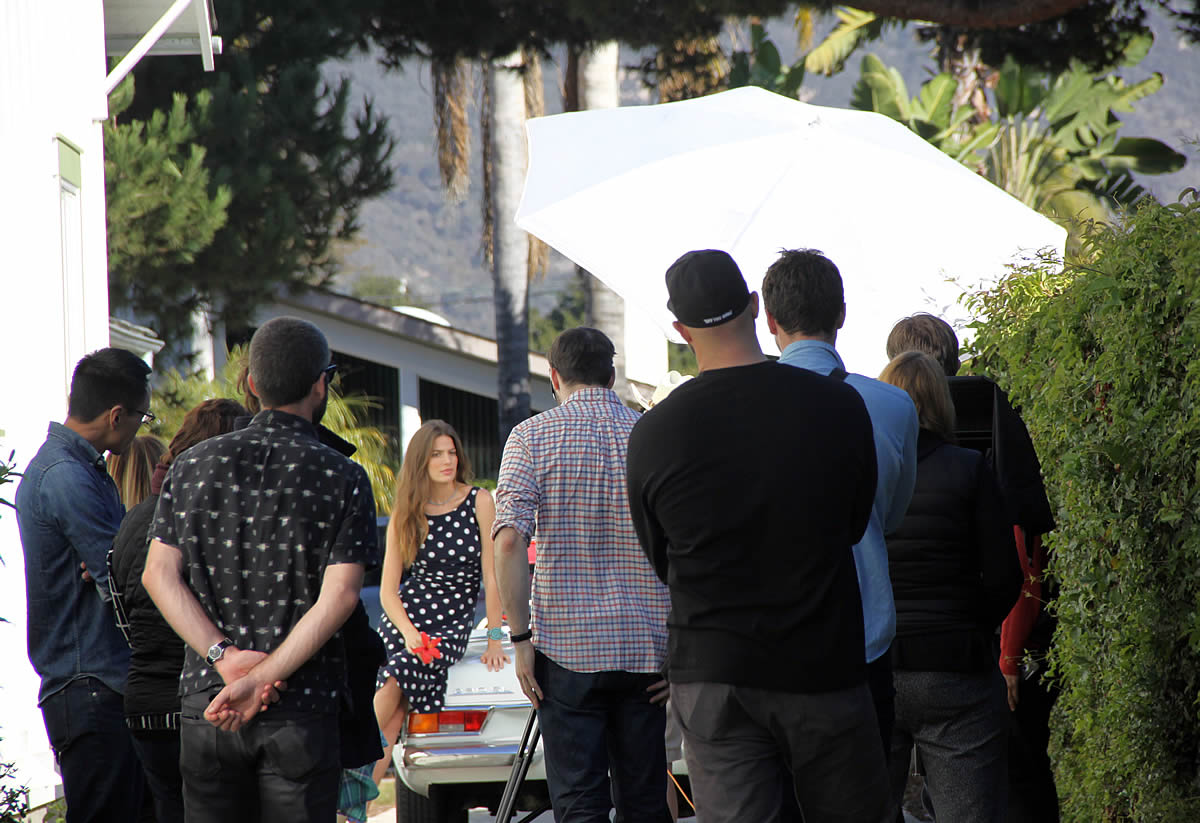 Extensive magazine photo shoot staged at The Cottages.
Dear City Council Members …
Mark Fitzgerald
As a guest of beach cottages for a number of years I'd certainly hate to see an end to their operations as we know it.
While I visit for at least 30 days many may not have that luxury and removing shorter term rentals from the market may jeopardize their business.
I recognize the issue of insufficient affordable housing and commend the city's leadership for tackling the matter head on; however I'd like to think a compromise can be agreed upon that won't satisfy everyone but may keep beach cottages viable and mitigate the affordable housing shortage.
Tamara Wahl
Finding beach cottages to visit/stay in that are original/vintage was the reason we came to Carpinteria. We wanted the whole experience, not an apt. I get the reason for the air bnb or vrbo negative vibe…these are different. Completely different catagory.
These vintage cottages stay with the history of Carpinteria, a simpler time. Not allowing these cottages to exist would be like telling the Spot to shut down! Please reconsider this property into another category so we can visit for the few days and drop back in time and enjoy Carpinteria as it was.
Richard Dean
I am writing to ask that you please allow the Carpinteria Beach Cottages to remain open as short term rentals. For the last ten years these cottages have provided the perfect respite for our kids and their friends to meet and spend weeks and weekends throughout the year. Our kids have grown up coming here and it would break our hearts to see them go (we could not afford the longer term rental costs).
While I appreciate the challenge you face retaining affordable home for residents, the cottages represent the best of both worlds — space for residents and affordable communal space for those of us visiting. Turning these units into 30 day rentals for the wealthy is not the answer — they clearly fall into a different category than the single family homes you seek to protect. Surely the work the owners have done to respectfully revitalize the property should be recognized and celebrated.
The cottages are how we discovered the joys of Carpinteria (previously we'd head to Goleta) and we've spent every local vacation here in town and at the Cottages ever since. The limited options west of the tracks combined with even more limited (and let's face it, not high quality) hotel space would force us to visit other cities if the Cottages were not available.
As I type this I'm watching our kids hang out with four other families as well as some folks we just met. It's magical and embodies everything that makes Carpinteria special. Please don't take this away from us.
Thank you,
Richard Dean
Alex Dean
Eliza Dean (10 years)
Stephen Dean (3 years)
Sioux Renfro
I just opened my email and I am shocked! These cottage are the complete embodiment of what Carpinteria is! To be able to stay here and enjoy all that Carpinteria has to offer while walking or riding a bicycle (provided!) is a magical gift.
The second you walk thru the gate you know you are somewhere special. I can't imagine not having their access for friends, family, out-of-towners to stay.
They are beyond perfect, every detail takes you to a different exotic spot. Sitting on the swings listening to music takes to to the East Coast. Sitting on the adorack chairs in the tall grasses you are in the Hamptons. Having morning coffee on the porch is Heaven.
We have stayed many many times at these cottages with our family almost since they were new. It was our tiny little secret we only shared to those who we knew would fall in Love with Carpinteria as much as we did.
We now have a little place of our own, on 7th! The cottage's are now used for our family flow-over stays there when we have a large get-together.
These cottages were made for overnighters, weekenders, and even those who stay for a month, like a husband and wife we once met. They are a dream come true for us and our family, and the very close friends we let in on this wonderland, right in the middle of Carpinteria.
Please reconsider this proposal. There is a Story on every porch from anyone who has been lucky enough to have stayed at the "7th Street Cottages." If you don't own here, there is no better place to completely take in a slice of Carpinteria Heaven.
– The Renfro Family
Joel, Sioux, Matt, Jenn, Katy, Mario, Christopher, Nicklas, Rhi, Juniper, Walker and Miles!
Just a side note…isn't the proposals for the 30-40 room Hotel on Linden Ave and 5th Street on the same side of the tracks as the 7th Street Cottages? I know when we would stay there we always went to the beach out the back of the Cottages…on 5th? I'm not comparing the two, for as a mother of 4 and grandmother of 3 I wouldn't stay in a hotel, I'd stay in a cottage!!
Aaron and Amy Rogers
We are writing to ask you to continue to allow short term rentals at Carpenters Beach Cottages. We have a severely disabled son who uses a wheelchair. It is hard to find hotel accommodations that are available, accessible, and fit our whole family. Carpinteria Beach Cottages does. We can easily access the beach and the walk way along the dunes (that our son loves). We can easily walk to downtown and enjoy lunch at Corktree Cellars and ice cream at Rori's. Our family has celebrated birthdays and anniversaries at the Cottages. Staying there and visiting Carp is one of our top vacations.
Please allow our family to continue to visit and enjoy Carpinteria in the Beach Cottages. Thank you for your consideration.
Erin Harding
For the last several years The Vernon's have organized a special weekend in Carpenteria for their Boulder friends to enjoy the Beach Cottages, Carpenteria (a community they dearly love) and to join them in giving back with a local service project. Through them (and the cottages,) we have come to know your beautiful farmers market, fabulous restaurants and quaint town. We have cleaned your beaches, done restoration in the salt marsh and worked with a girls program during the pandemic (to name a few.) What a gem the cottages are for short term stays and what an asset they (the Vernon's) are to the community. The cottage set-up is convenient for minimal impact as they are conveniently located next to the train and offer bicycles, allowing guests to travel into town without the need for a car. Our hope is that we can return to this now beloved spot for many years to come.
Helen Molesworth
Please don't shut down the Carpinteria Cottages for day, week, and weekend rentals. The cottages have served as a life line for me. I live in Los Angeles and have visited your beautiful city many times because the Cottages are so warm, welcoming, and, importantly, affordable. I've spent a week at the cottages writing. I've visited for a few days when I needed to "get away". And this thanksgiving some friends and I have rented a few of the cottages, along with my 83 year old Father-in-law. The cottages are so friendly and safe that we feel we can all enjoy the holiday together as a family there. I'm just an average person, and this is place where average folks can rent a great cottage, walk to the beach, grill fish, and eat at the local spots in town without breaking the bank. This is HUGE when so much of the coast is so expensive. Also, I love spending my money with smaller businesses and not giving it to a big hotel chain. The Carpinteria Cottages are simply a gem and I hope you let them remain so regular people can enjoy America's safest beach and all of the wonderful things Carpinteria has to offer.
Curt Kistler
It is with great sadness that I learned the fate of the Carp Beach Cottages this morning. The personal, and family history of this property dates back to it's beginning. My mother and father fell in love in your town in the late 40's. Their souls still lives in Carp, and I can feel their spirt in me every time I pass through your town. I grew up sleeping, surfing, fishing, and even fell in love for the first time in your town. I will never forget receiving the fisherman's handshake from Reggie at his bait shop, at least 100 times.
We all live in Colorado now, but still manage to hit your beach every time we visit family in Santa Barbara and Oxnard. The Cottages are one of the few historic landmarks we still enjoy seeing. The Vaccaro Family Reunion was set to take over all of the cottages last summer, but you know the rest of the story about 2020.
The current ownership of this property has poured their souls into making this piece of Real Estate "Old Carp". Please, please, please – do not touch this site. Let it continue to shine as one of your crown jewels forever. We will be back, in force, to enjoy your town.
Do the right thing, let us have the joys of remembering where we all came from.
Thank You,
Curt Kistler – Son of Virginia (Vaccaro) and Ron Kistler.
Mike Palmer
Our family, comprised of my wife and I, our three adult children and their spouses, and our six grandchildren, stayed at the Cottages for 5 days in July 2020. Everyone was coming from out of the area. It was one of our best vacations ever. Each of the four family units had their own cottage. We were able to walk to the beach and into town every day. The set up was perfect for us, and this property is very unique in that regard. Had short term rentals not been allowed at this property, we never would have come to Carpinteria.
The owners of the property put a lot of money into turning the property from a dilapidated eyesore, into an amazing and unique property with ample off street parking. All of the guests during our stay were quiet and well mannered.
The City Council will be making a huge mistake to enact the proposed ordinance if this property (as well as other properties which might be similar) are not exempted or grandfathered to permit them to continue to offer short term rentals. The ordinance would also unfairly benefit the many old and not as nice condos and rentals on the other side if the tracks.
Eric Taub
My family and I have been staying at the Carpinteria Beach Cottages virtually since its opening. We come every year, and have very happy memories. Our kids and grandchildren can't wait each year until they can return to "Carp" and the Cottages.
I, and my family, believe that your decision to end short term rentals on this side of the train tracks is a wrong, and short-sighted decision. All residents in our experience at The Cottages are well-mannered, quiet, and tidy; garbage is put in its proper place, and people park their cars where permitted.
We love being in a quiet residential neighborhood. In fact, if short-term rentals were only allowed on the side of the tracks closer to the beach, we'd find another beach city in which to rent, because all those rentals are over-priced and VERY congested; those areas are akin to student apartment housing at UCSB.
As a travel writer for The New York Times, I'm particularly sensitive to places that are out of the ordinary, and clearly have the best interests of travelers in mind. Carpinteria Beach Cottages is one such place.
If you no longer allow rentals in that location, not only will you be harming the livelihood of a hard-working individual who contributes his fair share of tourist taxes, but you'll also be negatively affecting the perception of your city as a wonderful, special place to visit. Why would you want to do that?
Robert McCoy
I urge the city council to not let a "line in the sand" dictate what is true and right with vacation rentals. The Carpinteria Beach Cottages are beautiful. While my income prevents someone like me (a classroom teacher) from ever owning something like this, it is comforting to know that I am not precluded from occasionally enjoying their beauty for a night or two when vacationing in your area. Please vote to allow the cottages to remain as short term vacation rentals.
David and Cindy Marschall
From the first time my wife and I discovered and enjoyed our wonderful experience at the beautiful Carpenteria Beach Cottages we made it our goal to return on a regular basis.
Unfortunately with your new proposal it will make it impossible for us to enjoy the many venues that Carpinteria has t offer on a daily, nightly basis.
City Council I am sure I am not alone when I say you are creating something you will later regret, you will be doing a disservice to your cities businesses.
As a business forecaster it is felt if you follow through with your proposal you will soon realize you will be making a mistake. "Tracks are for trains not for creating dividing lines"
Please allow the Carpinteria beach cottages to function as they have successfully been doing so, you owe it to the city of Carpinteria.
More heartfelt letters for the Carpinteria City Council Members …
Mimi DiTrani
Dear all: In a seemingly never-ending season of loss, to receive this e-mail nearly broke my already fragile heart. I moved to LA after College, nearly 20 years ago. Before 9/11, when I was as innocent as the world seemed to be.
I lived in Santa Monica, working in Entertainment, my life seemed to be a dream come true. After 16 years, I crawled out of CA, fried from the work, the expense, the changing climate, back to the East Coast. But, it called to me. I came back in 2018 to a very changed city I had longed for, but was always trying to escape. One weekend in Ojai, I wandered down to the coast and discovered Carpinteria.
Walking the town, in awe of the magic and peace of it, I got lost in it's simple beauty. It was then, one night in May that I found the cottages. I could not believe a place like this existed, was I daydreaming, was it a fantasy my mind had conjured? It was love at first sight. For the next year or two, it became my safe place, where I would go to hide from the world.
The first time I stayed, cottage 6, I fell asleep and didn't wake up for over 12 hours. My dog, Bella, and I sat on the porch, walked to see the sunset, made dinner, met friends, were in bed early. To this day, I hear the sound of those train tracks in my dreams. When the Pandemic hit, I immediately sought refuge in Carp. The cottages were not an option, unfortunately, but I stayed somewhere else nearby for over 8 months, safeguarded from the horror of the world, nestled in the grace of nature in Carp. As soon as possible, I stayed at the cottages again, using the election as an excuse, telling myself I was safer there than back in LA. But, I knew it was a fable I told myself so that I would have a reason to be in my haven. There would be no tragedy I can imagine in a place than for Carp to lose the cottages. Yes, Lisa can be difficult, I never did quite win her over (despite my efforts) and there are only the 8, with strict booking rules, I never could stay as long as I wanted to or the dates I wanted to – but somehow I tried to find ways to make it work even for a few nights to restore my heart, mind and soul. There are so few places like Carp anymore, that have independent stores and down to earth authentic people. And no place I know is more pure in it's infinite majesty.
I have been all over the world and there isn't a place I can imagine I would ever rather be than in Cottage 6 at the Carpinteria Beach Cottages. The sheets were washed with Tide, but I could never get the smell exactly right. Sweet, fresh, clean, perfect.
Please save this oasis. It is a microcosm of the loss of what has become an Amazon society, a nameless, faceless corporate world of chains with no personality, nothing unique to them and no magic trains. Despite not always being treated as well as I wished I had been, as I mentioned, in a way being scared away from staying there – I still feel happier just knowing these cottages exist. I think about them and sometimes have a vision I will build a house one day just like them. With a swing on the porch, frothy plants and flowers, vintage decor and that sweet laundered smell. And I go to sleep smiling.
I hope one day I will be able to return and know that just possibly my little letter had some small part in saving a place that once saved me. Over and over and over again.
With love, Mimi DiTrani
Kate Zinnecker
I am asking you all to please reconsider ending short term vacation rentals at the Carpinteria Beach Cottages. My family and I have stayed at the cottages for several years now and we love everything about them. They are darling, well-maintained, and in a great location for enjoying downtown and the beach. The management is always helpful and understanding. We come from different states and from cities throughout Southern California. Losing the cottages would be such a loss for the city. I'm also curious about the seeming inconsistency between enforcing this rule while approving the Surfliner, which is basically short term rentals right next to the railroad tracks.
Linda Maggi
The Carpinteria Beach Cottages are such a gem! Staying there is like taking a step back in time and a wonderful alternative to the traditional condo rental or hotel. These cottages were what brought us to Carpinteria in the first place and if we hadn't learned about them via Sunset magazine we might never have discovered the charming town of Carpinteria. We hope to visit again soon!
Kimberly Shepherd
I am writing with the intention of convincing you to let Carpinteria Beach Cottages continue with business as usual July 1, 2022 and beyond. We have many friends in the area and have attended many events that have required us to book stay in the area. We prefer Carpinteria Beach Cottages to Best Western and Motel 6 or VRBO.
This family owned business is kind, organized and staying here is much more comfortable than any of what Carp has to offer. I truly believe that businesses like Carpinteria Beach Cottages add value and bring quality visitors to the area as opposed to the chain motels and like many cities up and down the coast, tourism is just good for business.
It seems like a logical choice as well as good business to keep businesses like this one operating, this isn't your run of the mill rental, the owners have great control over the atmosphere and their cottages aren't used for parties, they are used by wonderful families that come to Carp to spend time with family and friends, memories are made at Carpinteria Beach Cottages.
Please make the right choice, let this fantastic business continue, you won't regret it. Thank you for your consideration.
Janet Sarbanes
My eleven year old daughter and eight year old son have grown up going to Carpinteria Beach Cottages. It's a remarkably family friendly establishment, in walking distance to the beach and shops and restaurants — no driving needed the entire time you are there. Easy to take the train there from LA also! Few magical places like this exist anymore in California. We are not a wealthy family and don't travel much but I save up for the days we can be there, because I always know it will be a beautiful time (and of course the train is part of that beautiful time!). I understand the issues with short-term rentals in neighborhoods, but I hope the Carpinteria Beach Cottages can be grandfathered in. They were a lifesaver to me when my kids were small and continue to be a treasured destination.
Bryan Holdman
I am devastated to learn that your city's policy regarding short-term vacation rentals will negatively impact the Carpinteria Beach Cottages. My very first stay at this property cemented my love of your special little hamlet on the coast. I have since returned many times, for both day trips and overnight stays, to enjoy the charm of the Carpinteria Beach Cottages and share the magic with friends and family.
I truly understand your desire to preserve what is special about Carpinteria by regulating and limiting short-term vacation rentals. Though us visitors enjoy soaking in the town's relaxed atmosphere, you absolutely must protect quality of life for residents whose daily lives are impacted by the effects of tourism on the community.
However, the Carpinteria Beach Cottages are such a specific bit of charm and local character. They contribute immensely to the town's atmosphere — and I'm certain they contribute to the economy as well! It would be a devastating loss if this new policy on short-term rentals were to cost a family business their livelihood.
Please take a moment to hear those of us who stand in support of the Carpinteria Beach Cottages. There must be a way to grandfather in this vacation property so that they can stay in business.
Thom Vernon and his family have contributed so much through their efforts to preserve local charm and character while offering convenient, clean and safe accommodations to out-of-town guests. I urge you to work with them to keep the Carpinteria Beach Cottages open for overnight travelers!
Kim Lee
I have been visiting Carpinteria for over 50 years and the thought of ending short term rentals for properties on the wrong side of the track isn't in the spirit of what I know Carp to be. The Carpinteria Beach Cottages, specifically are exactly the spirit of Carp. What these people have created is everything I remember as a child coming up here with my family. I hope that this decision will be reconsidered and Carp stays Carp.
Corinna Gebert
Dear Council members, I am writing to voice my strong support for the continued legality of short term rentals in the Carpinteria area. In particular family owned businesses on properties that are perfect for tourists create a win -win-win situation for the small business owners that built and operate them, the people who want to experience Carpinteria with its many leisure options and natural beauty, and for the city at large by supporting the many shops, restaurants and other businesses in the area.
My extended family and I have come to love properties like the Carpinteria beach cottages, which are laid out perfectly to welcome guests, and have allowed us to spend many wonderful family gatherings in a way no classic hotel could.
I strongly urge you to reconsider your short term rental policy and find a way to make this new(er) form of sharing and renting property something that is a benefit for all.
Please keep Carpinteria a welcoming place for residents and visitors alike.
Sincerely, Corinna Gebert, from Los Angeles, CA.
Deborah Wroblewski
The Cottages are the jewel of Carpinteria. They are tucked out of sight, quaint, respectfully quiet and have provided myself and my family with the best memories of my lifetime. I look forward to staying there with my grown children and grandchildren every year. For me, they represent the best of California. They have brought nothing but good to myself and countless others who need a respite, a bit of simplicity, and a perfect cottage getaway to restore and reconnect with the beach and family. Please, please reconsider you plan.
Maggie Nelson
The cottages are simply magical, and a deep part of our family's history together – it pains me deeply to imagine that they would have to go. It seems arbitrary and strange to allow rentals elsewhere in town, but not to allow this vibrant community that has meant so much to so many to stand. Please reconsider; our family and so many others would be eternally grateful.
Jane McConnell
Please don't eliminate short-term rentals at Carpinteria Beach Cottages! I've stayed there so many times, they are my favorite thing about Carp! The sense of community among renters, when you're sitting out on your front porch or grilling at the communal BBQ, is totally unique. I've stayed in the cottages for just a weekend, or months at a time, and it would be a different feel if it were all year-long leases. There is noplace like them to stay in Carp–they make such a great home base for family beach gatherings, girls' getaways, retreats–any kind of escape! The way they preserve the past and encourage simple things like biking around town, picnicking at the communal tables and making the most of small spaces is really unique.
Please don't take the short-term rental designation away just because they're a block on the other side of the tracks!!
Kari Castillo
Carpinteria Cottages is the reason why we come back to Carpinteria every year and visit the local shops and restaurants and enjoy the quaint town. I'm not sure we would be able (or want to!) return without the cottages because we enjoy our time spent at the cottages so much. It's rare to find something affordable, yet so well taken care of such as the cottages, within a walking distance to the beach. It is so family friendly and we were planning on having a small family vacation with extended family in 2022.
Please save the cottages! We feel like we found a gem, and we haven't had long enough to enjoy it!
Tara Dhillon
With our daughter now attending Cate school, we will visit Carp several times a year to see her. The Carpinteria Beach Cottages are the nicest place to stay in your town for long weekends. If they are forced to require 30 day stays, we would rather stay in Santa Barbara and spend our tourist dollars there instead. Please reconsider this blanket ban and its impact on a delightful property that caters to people who appreciate a quaint quiet place to visit. Thank you.
Susan Tunnell
I believe that the purpose of this ordinance will not be served by prohibiting businesses such as Carpinteria Beach Cottages. The ordinance could be reframed more narrowly to achieve its goals. Thank you for reconsidering.
Cheryl Du Lac
Please give Carpinteria Beach Cottages an exemption from the née law. We have 5 years of wonderful memories staying at CBC with our. Family and granddaughter. We stay in the beach house and our granddaughter now 9 yrs old, knows the room with the window in the door is hers. Since this has been her annual vacation, she thinks and tells her friends "we own a cottage at the beach." She has told all her friends about Carpinteria. We have a reservation for June 2022. We come every year for a week and we spend a lot of money in the stores and restaurants on Linden. We will probably pick a new beach town to vaca at if these aren't available for short term rental. CBC clearly were designed for vacation, vs a home converted to a rental. Please, please reconsider this property for your new law. PLEASE!
Helen Collins
Please allow Carpenteria Beach Cottages to be grandfathered in. We would visit our daughter at Cate and this was the one place where we could all be together for a long weekend and reconnect as a family in a home away from home setting. A hotel would have meant my husband and I had to split up so that one stayed with the teen and the other alone.
Taylor Sunseri
It is a shame that a decision has been made to end short term rentals for places, such as The Cottages, beginning next year. This is a wonderful little spot that we have spent several occasions at. It's a perfect spot for a weekend getaway! I was looking forward to renting out several units at this property for my upcoming Carpinteria wedding in August 2022, as it is the perfect spot to have my closest family and friends be together during this weekend. Please reconsider your choices to no longer allow properties to be short term rentals. Carpinteria is a beautiful beach town that I hope many more continue to come experience over the years.
John Palmer
Please reconsider this proposal. My extended family (parents, sisters, husbands, wives, and many kids) rented 4 cottages in July 2020 for a long weekend and had the time of our lives. It was my first time visiting carpenteria and we would not have visited if not for the cottages. If they are forced to close due to the new restrictions then it's unlikely I will visit carpenteria again.
Lois Howes
We urge City Council to not change short term rentals in the Carpinteria area. Having stayed at The Cottages for several years we appreciate their commitment of pride of ownership enhancing the Carpinteria charm. Please leave short term lease as is.
Christina Balesteri
We have visited the cottages 5 years, each visit brings us to celebrate a special occasion and meet our California family members mid point from San Diego to Monterey/San Francisco. We have celebrated holidays, 50 year wedding anniversaries, milestone birthdays. We stay for the 3 to 4 days – the cottages are within walking distance to all the restaurants and breweries, we always eat out when we visit and shop locally. Enjoying the morning coffee bistro or breakfast, ice cream, candy store, and dinner steakhouse or mexican. Local lunches a brewery or trip sandwhich at the deli. Having this location convenient clean affordable, and special is the attraction and bringing dollars back into your community. Please conside this when making your decision to end something that is very special to your neighboring california residents.
Kim Lancaster
The Carpinteria Beach Cottages have provided a beautiful experience for my visiting family and friends for several years. We feel they should be an exception to the short term rental rules regarding the location being on the other side of the tracks. These cottages are nothing like someone just renting their single dwelling house out for a weekend.
Daniel Daugherty
Not allowing short term rentals on the north side of the train tracks is bad for a City that relies on tourism and their beach. My family has been visiting Carpinteria for week long vacations since the early 1980's when I was 4 years old and made habitual yearly summer trips. As an adult with children of my own now, my family still visits Carpinteria and has stayed at the Carpinteria Beach Cottages for weekends and one week at a time for beach vacations. We cannot stay longer than one week because of our jobs, and frankly do not know any one who can for an actual non-working vacation. Continuing to implement this poorly though out policy will prevent people from staying in your beautiful City as all the rentals on the beach side of the tracks fill up too quickly and become prohibitively expensive for working class families due to high demand that will find and then go somewhere else where they actually feel welcome, not second or even third class citizens. I never thought of Carpinteria as one of those "arrogant locals" cities populated by elitists, but that is what will happen if you pursue this arrogant and restrictive policy.
Susan Slavin
I have had the pleasure of staying at the Cottages for the past six years since my sister started renting the Cottages to bring our family together for yearly visits. The overall atmosphere and beachy warmth of the Cottages has helped us create many valuable memories. The Cottages are well maintained and monitored and seem to attract families who are respectful and follow rules. Often, we have interacted with other occupants due to the closeness of the cottages which has added to our experiences. Changing them to longer term rentals would be a shame and realistically would be discriminating to people who could not afford a monthly stay. Please reconsider this initiative decision so that more families and individuals can share this unique, charming, and memory making environment instead of limiting the Cottages to fewer renters throughout the year.
Tommy Schmitz
Such an amazing and safe place to stay! Please extend as we are hoping to have our families stay during our wedding which will be at the Lion's Club! We love Carpinteria and the cottages!
Jennifer Ragland
My family of four and I have been staying at the Carpinteria Beach Cottages for the last 2 years. It was a place we could go that we could just relax and enjoy the town and the beach. We were making these summer trips a family tradition that my daughters, husband and I were excited to continue. Please rethink the law to end short term stays here. Keep the cottages a short term spot for families like mine to make more great memories. Thank you for your consideration.
Gina Ange
My family and I have been visiting the Carpinteria beach cottages every summer for the last 5 years. We look forward to this vacation and hope that we can still book the cottages in the future. We have always been surrounded by respectful families in the cottages that treat the beach and the environment well. We hope the cottages still remain a place we can keep going every summer!
Alia Malchow
My family loves Carpinteria and have been visiting for many years whether it be a day trip or a weekend getaway as we live only an hour away. We've stayed at the Cottages at least 6 times and it's always the one vacation my whole family looks forward to every summer; our last hurrah before school starts. We always stay at the Cottages with a couple other families. We love that we have our own space for each family, but can also gather together. We love how centrally located the cottages are to the beach and all the great dining along Linden. The Cottages are so warm and welcoming and Lisa is always so great in working with. We love all the amenities they offer to their guests; they really thought of everything. After the last year and a half of dealing with COVID, staying at the Cottages was such a reprieve from all the stress and turmoil we've all had to endure. Losing the Cottages as our summer getaway will be so impactful to not just our family, but so many others.
Casey Stevens
Our family has been staying at the Carp Cottages for 6 years now. It is our only annual vacation each year that we look forward to. So many memories have been made there. If we can't stay there, then we will have to find a new city to vacation in. Please do not implement this law. It's just terrible.