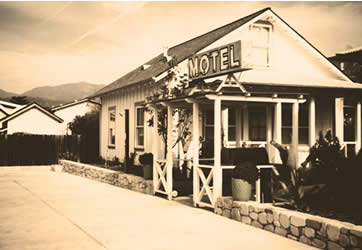 Thom Vernon, Owner: As soon as I saw this property in 2010, I knew that this is what I wanted to do.
Though I couldn't save all of the 6 sad cottages, could I bring it back to its happier days? A project that I hoped would inspire developers to respect land and community, have lots of sustainable features, be efficient with space and avoid overbuilding properties because they can.
A place where people who appreciate simplicity would love to stay and leave with great memories.
*
The Unique Benefits: Completed in 2013, the property includes two "saved" 1955 houses and 6 new personality plus one bedroom (sleeps 4) cottages. A project with splurges on the right things (the best windows, ceiling fans, wood doors, appliances…) with a philosophy that bigger is not better. These have the latest sustainable materials (tankless water heaters, flooring's, exterior materials, toilets, lighting…) yet feel authentic to its past life with original vintage accents. Porch swings, picnic tables, swaying palm trees, fruit trees (limes for the drinks of course) – everything you would want on the perfect vacation. Enjoy exploring Carpinteria … and the photos below from around the property and our coastal town!
"The Cottages in Carpinteria have vintage-California style, perfect for a relaxing beach escape." – 805 Magazine